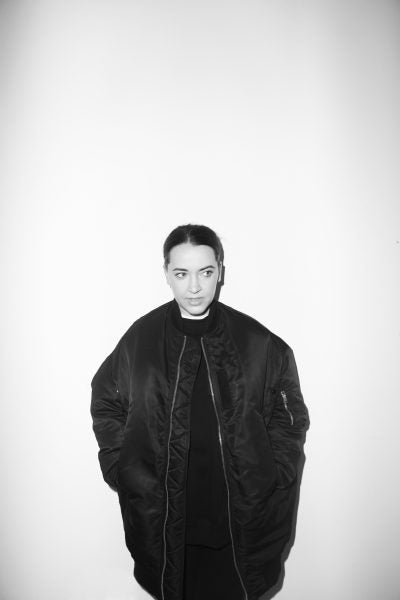 The story of Mr Mittens is one for all ages. The Belgian-Australian premium knitwear brand, was born out of not one but two chance encounters. First, Antwerp-born Stéphanie Caulier, the founder and creative director, meets the man who is to become the love of her life and follows him halfway across the globe to Australia. Happily settled in Perth but restless for a new endeavour, Caulier stumbles upon a knitting café whilst visiting New York in 2007. This chance encounter brings backs childhood memories of her love for knitting, a cherished family pastime when growing up. Back home in Australia, the idea of an own knitwear label starts to take shape in her mind.
Without any formal training but an avid knitter from an early age, Stéphanie Caulier embarks upon the challenge of designing a limited series of unique hand-knitted garments and accessories in 100% wool. Caulier's first offering of chunky knits stands out from prevalent trends because of its innovative use of the reverse purl stitch, a technique that is now, over ten years later, and Mr Mittens signature. 
Every step of the way, Caulier's decision are informed by her very own experiences. After presenting her first chunky knits to a select few premium boutiques in Belgium and rapidly securing her first orders, a process which she oversees herself from development to production, she is struck with the fact that her young label is yet in search of a name. In an arguably off-beat move, she names her project Mr Mittens, its quirky name drawing on a beloved old children's tale and its mischievous protagonist, a cat called Mr Mittens. 
As Caulier launches her very first production, she decides to forego mass production and instead relies on the talent and the expertise of small teams of knitters in local ateliers, where every piece is knitted by hand using time-honoured knitting techniques. At the core of this all, is a belief in sustainability and the immeasurable value of community. Every garment label is inscribed with the phrase 'Heartworking knitwear', a testament to the women in the ateliers who work in tandem to bring to life Caulier's vision of how knitwear should be, perennially contemporary, deceptively simple, timelessly elegant and last of all, of the highest quality. 
In only a few seasons' time, Stéphanie Caulier watches Mr Mittens grow from passion project into an internationally esteemed knitwear label that counts the likes of Chiara Ferragni and Leandra Medine among its early adopters. Receiving acclaim for its timeless aesthetic and commitment to sustainable entrepreneurship, Mr Mittens stands for high-quality, sustainable knitwear in 100% wool or 100% Pima cotton. 
Almost ten years after wandering into a New York knitting café, Mr Mittens is sold worldwide in over 75 renowned multi-brand boutiques, a curated selection of retailers whose vision aligns with Caulier's, such as Matches and Net-A-Porter.
After giving birth to her first daughter, Caulier decides to return to her home base Antwerp in 2016, where she continues to work on Mr Mittens, supported by a small team of ardent believers.